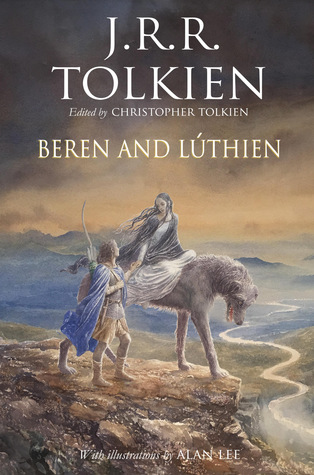 I've been following this books release since early 2017, with the prospect of reading more Tolkien, and furthermore illustrated by Alan Lee, being a hopeful one:
Essential to the story, and never changed, is the fate that shadowed the love of Beren and Lúthien: for Beren was a mortal man, but Lúthien was an immortal Elf. Her father, a great Elvish lord, in deep opposition to Beren, imposed on him an impossible task that he must perform before he might wed Lúthien. This is the kernel of the legend; and it leads to the supremely heroic attempt of Beren and Lúthien together to rob the greatest of all evil beings, Melkor, called Morgoth, the Black Enemy, of a Silmaril.
The book is essentially a collection of writings from Tolkien showing the story of Beren and Luthien, a story which foreshadows Aragorn and Arwen's love in Lord of the Rings: a mortal man and an immortal elf.
This is done through a mixture of poetry and narrative, all illustrated by Alan Lee; the original illustrator of Lord of the Rings and The Hobbit.
Overall the tale is well written and very high fantasy – I would say that anyone who has not read Tolkien, however, may find themselves a it lost as to what is happening.
I try not to sound harsh when saying this, but I feel like I would have enjoyed this book more with less interruptions by Christopher Tolkien talking about the text – to some this is likely very interesting, but to myself it meant I could barely keep immersed for long enough.
Necessary for any Tolkien fan to add to their collection, and something which was clearly very dear to the authors heart. As an introduction though perhaps stick with The Hobbit for a more narrative structure than curious one.